Basin Run Animal Hospital Blog #1- Low Stress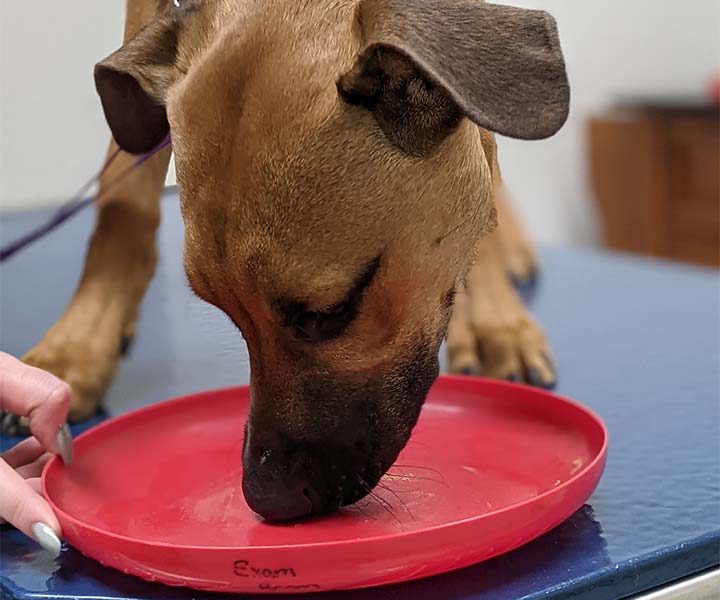 March 24, 2021
Hello everyone! Welcome to the first article of our new blog series!
We here at Basin Run Animal Hospital are dedicated to the highest possible care of your beloved pets. Our hospital not only holds high regard for the physical health of your companions, but also their mental and emotional well-being. We have a multitude of staff members who have been certified in fear-free and low stress handling techniques. These methods assist us in creating a smooth and positive experience for everyone.
From the moment you arrive at the hospital with your furry, feathered or scaley friend we do our best to put you and your pet at ease. With our curbside protocol, our technicians and receptionists use the most comfortable techniques for getting your pet inside. For our smaller patients such as cats or exotic animals, we require carriers in order to transport them safely into the hospital. This ensures that if any part of the trip into the hospital proves unsettling, they will remain safely contained. For canine patients, we transfer them to double slip leashes to prevent any potential escapes from loose collars or harnesses.
During our socially distanced practices, if you feel as though your pet would benefit from you accompanying them to the exterior door, we certainly encourage this and would ask that you wear your mask during the trip. Upon entering our facility, we utilize pheromone plug-ins for both our canine and feline friends. These are specially formulated to mimic the pheromones released by nursing mothers in order to calm their babies. We strive to keep our hospital quiet and utilize the best space for the services that your pet needs. One of the most common techniques that our technicians practice is known as "less is more" restraint. We allow your companions to stand, sit or lay down wherever they appear to be most comfortable and use that space for examination, vaccines or other procedures.
While our number one goal is the ease of the visit for everyone, we also understand that some pets have had difficult experiences before, or are just generally nervous for visits. We often utilize high reward treats such as spray cheese or peanut butter to positively reinforce the experience. (Please let us know if anyone in your household may have an allergy to these treats and we will be sure to avoid them.) Our veterinarians are well versed in providing suggestions for calming products such as supplements, nutraceuticals or pharmaceuticals. By consulting with you, we can determine which best suits the needs of everyone involved. You are the expert on the personality of your companion and we always appreciate input into tailoring the services we provide here to their individual care.
Even though it may seem silly, we always encourage a "friendly visit" to our building. During these sessions we simply bring your pet in, weigh them and do a brief trip to an exam room or through our halls. We provide treats as well as verbal praise throughout the trip in order to show them that every time they come here, it is not going to be all that bad. You are always welcome to call to our front desk and let them know you plan on swinging by for this purpose and we'll gladly accommodate you.
Please let us know if you have any questions about the fear free and low-stress handling techniques that we offer here at Basin Run Animal Hospital!